Overview
In detail:
the first ISO 26000 assessment for integrating social responsibility throughout its activities
the engagement of local stakeholders and institutions
action taken in the healthcare area and the award for conducting the malaria prevention control program
the initiatives for education and culture
mangrove reforestation on the Indonesian coast
a video on activities and development projects in Indonesia
Socio-economic development
Social responsibility
Eni Indonesia completed its first ISO 26000 assessment in 2016. The assessment has verified that Eni Indonesia uses guidance provided by ISO 26000:2010 as main reference document for integrating social responsibility throughout its activities, policies, strategies, procedures and objectives; has considered all the social responsibility principles and verified the applicability of all core subjects of ISO 26000:2010.

Prior to entering the area, a social baseline study was conducted in 2013 in cooperation with a prominent local university. The study is part of Eni Indonesia's best practice in approaching a new working area to better understand the unique characteristic of the local stakeholders, including a complete baseline assessment of demographic, social and economic data. The data also provides information on local community's involvement within the project and stakeholders mapping as a guideline for the company to formulate a stakeholder engagement strategy.

Community Involvement and Development (CID)
In Eni Indonesia CID activities, our focus started with strengthening local stakeholder engagement through effective communication and establishing mutual respect amongst the local stakeholders. In order to achieve that goal, a physical presence in the vicinity of our working area is the key. Eni Indonesia established a permanent meeting point named "Rumah Singgah" or "Shelter House" which is located in the residential area of the local community in our operation area in Handil Baru, East Kalimantan. The shelter house provides a space where dialogues were initiated amongst local community members, company and local authorities. It is essential during the dialogues to understand and discuss with the local stakeholders about their needs and wants. Understanding needs and wants of all related parties has proven to be crucial in having a fruitful relationship with our local stakeholders.

Constructive dialogues will help build mutual understanding and respect amongst parties involved in the activities and eventually will contribute to a better and more beneficial community investment program for the sake of local development.

In 2016, Eni Indonesia contributed to the development of its operation areas, using local labor and suppliers for the goods and services required for its activities. In regards to this matter, a Procurement Workshop was held for local contractors introducing basic procurement processes in the oil and gas industry in Indonesia based on the SKK Migas (Indonesia's Oil and Gas Upstream Authority) regulation to increase local contractors' knowledge in order to enable them to participate in various procurement processes.

A local capacity building program is also aimed at the fishermen community in Samboja, East Kalimantan. The program focuses on the introduction and encouragement of eco-friendly fishing methods. In cooperation with the Department of Marine Affairs and Fisheries (DKP) of the Samboja District, East Kalimantan, Eni Indonesia also provides eco-friendly fishnets and socialization about eco-friendly fishing methods which are safe for the environment as well as for the fishermen. With a specific mesh size, the fishnet only catches the fishes that are ready to be caught and exclude the small fishes.
Health
Health campaigns were held both in the office and in the field working areas. In the Eni Indonesia office, the health team has been actively disseminating monthly health articles through email, intranet and notification board. Health talks were held to enhance employee awareness on various health issues such as the Zika virus, oral hygiene and office stretching activities. Blood donations were held twice in 2016 and for the wellbeing of the employees, a sports clubs with various activities was available. In our field working areas, monthly health articles were also put on the notification boards. Health talks were also held on various health issues that are different from the office such as sexually transmitted diseases and heat stress. In 2015, Eni in Indonesia was awarded by the Regional Health Office in Teluk Bintuni district in Papua Barat for conducting the Malaria Prevention Control Program during the 3D seismic survey project in Arguni 1 working area.
Education
The future of the community also lies in their education sector. Eni in Indonesia is committed to assist in helping to improve the education in its area of operations. In 2014, Eni Indonesia started the campaign for Eni Training Operations Program (Eni TOP) to universities around East Kalimantan. 30 students were selected to participate in the two year program (2015-2016) which consists of trainings on the office as well as on the field. The program is now completed where all participants passed the final assessments and are officially ready to work as Operators and Technicians for the Jangkrik project.

After offering Master Medea Scholarships for students all over Indonesia since early 2000, starting in 2015 Eni Indonesia focused this initiative for local students from a university in East Kalimantan to participate in this program in ECU, Milan. After completing the program, the aim is for those students to return to East Kalimantan to help improve their hometown by, for example, teaching or working in the area.

To disseminate information and better understanding about upstream oil and gas industry in general and a better understanding of Eni Indonesia's projects in particular, Eni Indonesia initiated a program called "Eni Mengajar" or "Eni Teaching" where Eni Indonesia professionals come to various educational institutions in Indonesia to share knowledge or deliver a public lecture to students from various disciplines.

Local Youth Empowerment for Local Art and Culture
Eni Indonesia's Muara Bakau working area is situated mainly in the Handil Baru Village, Samboja District, East Kalimantan, where the community comes from mixed ethnics. Despite this fact, traditional activities can barely be seen in the areas. Local youth and also elderly community leaders claimed that the lack of traditional events might be one of the factors. There is a concern whereby the traditions will vanish some more years from now. This program focuses on empowering local youth to revive their native culture that is gradually being forgotten and learn more about it. The program is initiated by the mentoring program for specific tradition performance competition, such as the traditional music competition.
Environment
Starting from 2011 until 2016,
Eni Indonesia has planted more than 50,000 mangrove trees
on the East Kalimantan coast, stretching from the villages of Handil Baru, Senipah and Salok Api Laut to protect communities from coastal erosion and high tides. This re-forestation also aims at
balancing the ecosystem in the area
.
Multimedia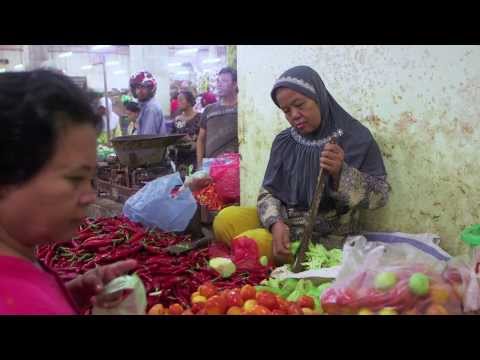 Read also
Eni operates in Indonesia in onshore and offshore activities in the Exploration & Production sector.